One of the biggest digital trends we've seen is in the evolution of social media messaging apps, they're smarter, packed with features but…there are countless text and chat apps to choose from. So, in this blog article, we reveal the best messaging apps for your mobile for both Android and iOS in 2019!
#1. Yabb Messenger
Alright, we may be a little biased here but we think Yabb Instant Messenger is one of the best new all-in-one social networking chat apps on the market for Android and iOS. It's loaded with features so you can communicate however you want, whether it be a voice call, video call, group chat, whatever.
Yabb's Features
Cheap international calls to mobiles and landlines
Free VoIP calls (no phone number required)
Emoticons and animated stickers
Self-destructing text messages – set a timer for how long you'd like your message to "stay alive" once someone sees it before it is gone forever.
Group chat
Video chat
Real-time push messages
Location sharing
Meet new people nearby
Photo sharing
Social media wall where people can share and like
Share YouTube videos with your friends
Moderated content (if someone uploads inappropriate photos we remove them)
Real-time social updates
Yabb Instant Messenger is available on Android and iOS
#2. Telegram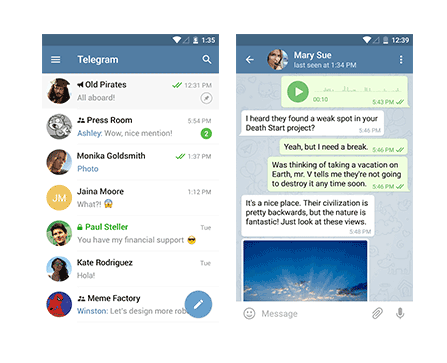 With millions of users on the Telegram platform it's one of the more popular messaging apps and it's mostly known for its solid end-to-end encryption which keeps your social media messages and calls private. There are other apps on this list that challenge Telegram's claims about its ability to keep users' communication truly private, however.
What we like:
Messaging data is synchronized without any limitations across all devices and operating systems
Good intuitive design and user interface
Flexible security options
Some good customizations
No limit on file size sharing
What we dislike:
No video calling option
The contact list is based on phone numbers and requires contact permissions on mobile messaging devices.
Voice calls weren't as good as some other messaging apps but that has been a connection issue?
Search function needs improvement can be a little tedious to find what you want
Features
Store messaging history in the cloud
256-bit symmetric AES encryption, 2048-bit RSA encryption, and Diffie-Hellman secure key exchange
Stickers and GIFs
Photo and video editing
Group messaging for up to 100,000 people
Available for both Android and iOS
#3. Facebook Messenger
Facebook Messenger is a stand-alone messaging app that allows you to stay in touch with friends and family even if you don't have the Facebook app installed on your phone which is handy. It comes with the typical feature set video calls, group messaging, etc. but it also allows you to send money in some countries.
Facebook Messenger is intuitive, clean and easy to use and the best part is that it's likely that your friends, family, and co-workers are going to have this on their phone so there's no need to move them over to a new app.
What we like:
Simplicity and ease of use
Has all of the basic features required
What we dislike:
Security is a concern since Facebook Messenger part of the Facebook mothership which is in the business of collecting personal data which tends to make us nervous.
Features
Group messaging
Free video calls
File sharing
End-to-end encryption
Available for both Android and iOS
#4. Line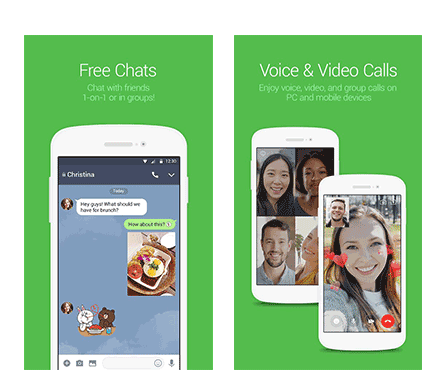 LINE is undoubtedly one of the most popular messaging apps in Asia, boasting a user-base of over 600 million users. LINE comes built-in with a lot of the standard features you'd expect but you can also do other things like order a taxi, send money and call international landlines.
What we like:
It's not chained to your smartphone, you can use Line on your PC or Mac too.
Calls to landlines, it's not free but they're cheap.
Keeps all of your conversations in one place
Add-on apps to extend its capabilities
You can almost run your life from this single app. It covers your social media needs, you make purchases using Line Pay or if you're in Japan use it to hail a cab!
What we dislike:
It's not well-known outside of Asia, chances are your friends will already be fully invested in another messenger app so it may take some convincing to get them to migrate all of their contacts over to a new service.
It's kind of busy to look at and there are ads of course but what app doesn't have them, the point is that it just adds more noise overall.
The interface isn't as slick as other messaging apps or easy to use as other well-known social media apps like Twitter so it will take some time to adjust to the layout.
Features
Group video calls with up to 200 people
Polls
Free voice and video calls
Share messages, photos, stickers, voice messages and locations
Social timeline
International calling with LINE Out
Available for both Android and iOS
#5. Viber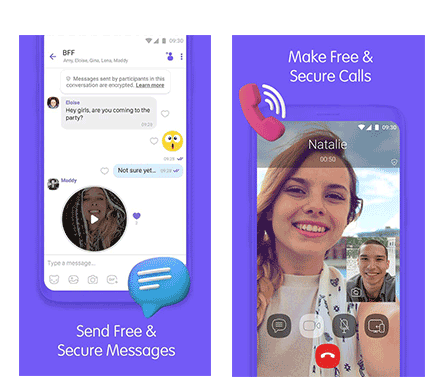 Viber boasts over 1 billion users worldwide and chances are your social or work contacts are going to have this messaging app on their phone. It allows you to send text messages, stickers, emoticons, make free app to app voice and video calls plus you can make cheap international calls using Viber Out.
What we like:
Good clear audio
Multi-platform (iOS, Android, Mac or PC)
A strong user base in the west, so chances are your friends, will have it
Doodle and send feature is handy in business to get ideas across quickly
Speedy app to use
What we dislike:
Viber doesn't seem to be updating as frequently
User base does seem to be dropping most likely due to other messaging apps offering more features
Users have complained about Viber using too much data
Features
Group messaging
Text messaging
Cheap international calls
Free app to app video and voice calls
Self-destructing messages
Available for both Android and iOS
#6. Google Hangouts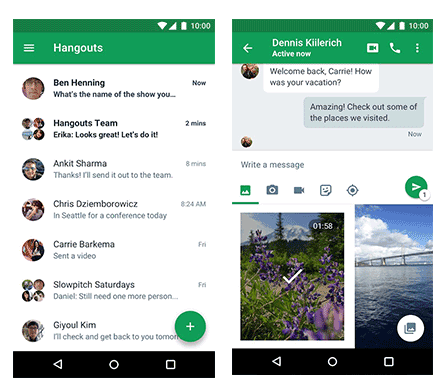 Google Hangouts is one of the main social media messaging apps we use at the office to communicate with our team members mostly because it's simple and fast. To use it you do need to have a Google account, once you're all set up you can message people on your email contacts list.
What we like:
Simple to use and lightweight
Full integration into your Gmail and Gsuite
Virtually everyone has a Gmail account so you can communicate easily with new contacts at work or with clients
What we dislike:
Can't edit a sent message
We do notice frequent call drops on conference calls and audio lag which means we're often stepping on other people's sentences
Video calls can get laggy with screen sharing
Google doesn't seem to care about adding new features or updates which people have come to expect from messaging apps
Features
Send files
Real-time messaging
Share photos, GIF's, etc.
Video ad group calls
Available for both Android and iOS
#7. WeChat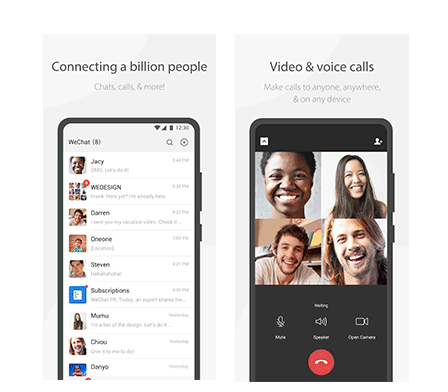 WeChat is one of the other major players inside the messaging apps space with over 1 billion users. This is the number #1 social media messaging app in China and allows photo sharing, voice and video calls as well as being able to find any friends that happen to be nearby to share snapshots and moments.
What we like:
Registration is easy just use your mobile number or Facebook account.
Good quality video and voice calls
Available for all common platforms
"Look around" feature which makes you visible to others meaning you can meet new friends.
What we dislike:
The interface isn't as slick and intuitive as the other big name messaging apps
Mostly used in China so your friends and contacts may not have it
Features
Voice calls
Video calls
Meet friends nearby
Share photos
Make payments
Play games
Available for both Android and iOS
#8. Signal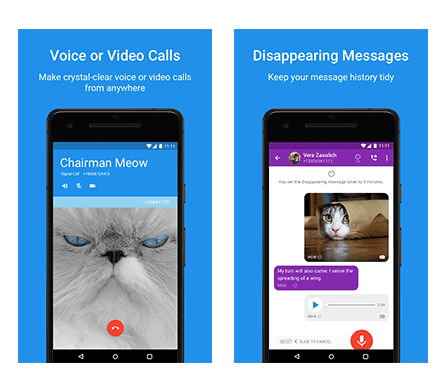 Signal is one of my favourite messaging apps because it has solid encryption and comes highly recommended by top security experts. I'm not trying to 'get off the grid' but I do prefer messaging apps that offer strong security features when it comes to personal use.
What we like:
Advanced end-to-end encryption (Edward Snowden-Approved Security)
Chrome extension available
You can easily view all media shared inside the chat without scrolling back to when it was shared
What we dislike:
Doesn't encrypt SMS/MMS messages to your phone contacts, only works when sending to other Signal users.
Needs access to your phone number
Features
Military-grade end-to-end encryption
Texts
Voice calls
Group messaging
File sharing
Available for both Android and iOS
#9. Snapchat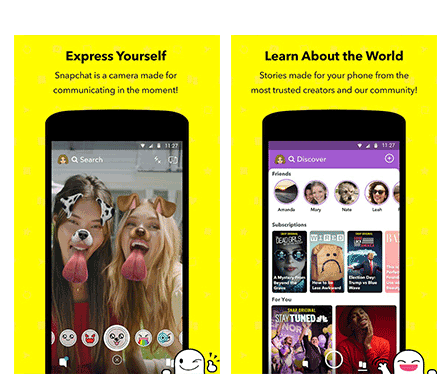 Snapchat was made famous by its seemingly weird self-destructing messaging feature which is now a standard feature in most messaging apps today. While it's not as popular as it once was it still has an enormous following especially with celebs.
What we like:
Hasn't deviated from what it does so well and that's photo sharing
Geofilters
The ability to build stories for people to follow along
You get to see who is watching your snaps
What we dislike:
The new interface is a little confusing and hides a lot of the stories from friends, family and, customers
Lacks analytics
Features
Self-destructing messages, photos and videos
Photo editing
Awesome filters
Group texting and group stories
Available for both Android and iOS
#10. Slack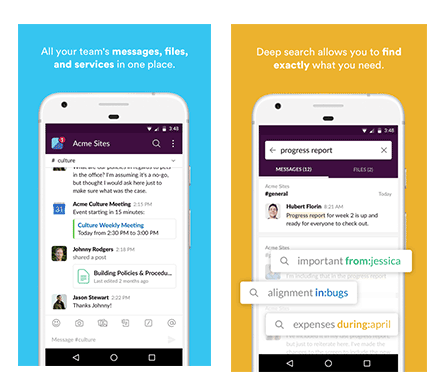 Slack is a team-orientated messaging app available for both Android and iOS. With features like real-time messaging, scheduling, management tools, app integration, file sharing setting up sub-groups and more it's not hard to see why corporations and even casual user groups have quickly adopted this great messaging app.
What we like:
Instant notification on feeds, so nothing gets missed
Different channels to help keep things organized
Video calls are good quality especially when compared to other video conferencing providers
Document sharing is very good, you can see all documents in thread with a single click
What we dislike:
A lot of notifications
Lack of storage space of older conversations (free version)
The search feature needs a little improvement
Interface not user-friendly for non-techies
Features
Share files
Create sub-groups
App integration
Real-time messaging
Cross-platform (PC and mobile)
Scheduling
Management tools
Available for both Android and iOS
#11. Microsoft Teams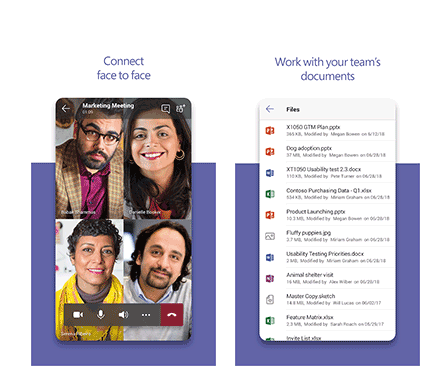 If your team is already using Microsoft's Office 365, then Microsoft Teams for Android and iOS would be a good alternative to Slack. Boasting a massive feature-rich set of productivity-focused tools you wouldn't go wrong using this app at all.
What we like:
Integrates easily into all of your Microsoft products
Extend the functionality of teams by adding 100+ other messaging apps
Create bots to execute repetitive tasks
What we dislike:
A lot of the tools are very similar making it tough to decide which tool to use for which job
100 channel limit, not a problem for small organizations but big multi-nationals will likely run into problems
Features
Group messaging
Chat channels
Organization tools
Video and voice calling
Searchable messages
Enterprise-level security and compliance features
Full integration across MS Office's suite of tools
Available for both Android and iOS
#12. Band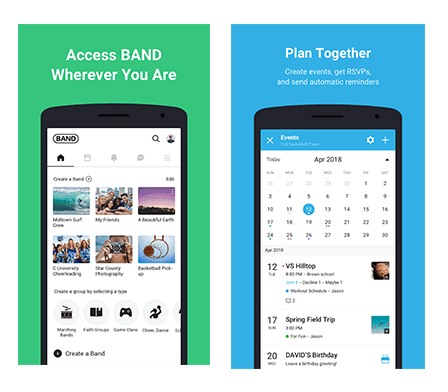 Band is one of the most fun group messaging apps available for Android and iOS. Fundamentally, this is a group chat messaging app but it comes packed with cool features like community boards that allow you to broadcast your updates, joining public group chats and of course creating your own private chats and invite your friends. Share files with your group, take part in polls, create photo albums and more.
What we like:
Join other bands
Fun features
What we dislike:
Not widely used so you need to convince people to use it
Features
Public or private Group chat
Join other groups
Share media files
Polls
Broadcast updates via a community board
Available for both Android and iOS
#13. GroupMe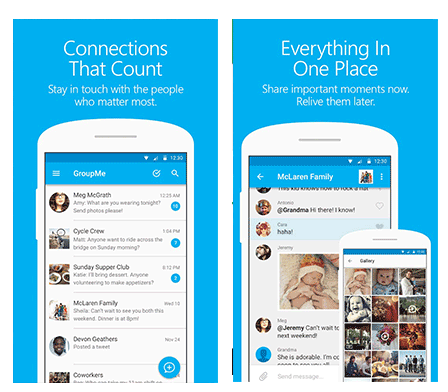 GroupMe is one of the most popular social messaging apps in the app market, one of the reasons is because it actually supports SMS group chat and while you might be thinking "doesn't my mobile already do SMS group chat?" you'd be wrong because standard SMS group chat is really just a Bulk SMS blast.
With GroupMe the people are actually added to a virtual chat room where they can interact.
What we like:
It's specialized so it has everything you need for group chatting
Easy to use
Photo and video sharing that allows participants to 'like'
What we dislike:
Doesn't have a massive user base (10 million) so will have to get your friends to install most likely
Features
Unlimited chat groups
Supports SMS group texting
Cross-platform (Windows, Mac, Android, iOS and standard mobile)
Emojis
Share photos, GIF's and videos
Available for both Android and iOS
#14. Discord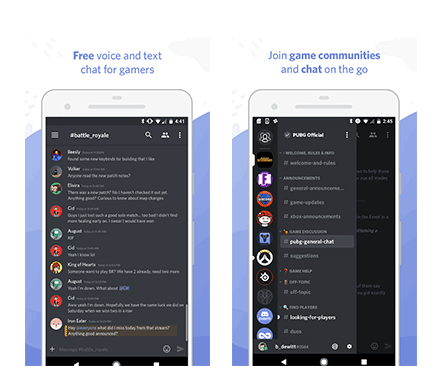 Discord is the go-to messaging app for gamers but it's also being picked up by companies as a communication channel. Discord allows you to join group servers, set up channels that are focused on specific topics as well as voice and text chat features.
What we like:
User-friendly and Slack users will instantly feel familiar with the interface
No account creation required – just send a person a web link and they can join in
Voice channel
Friendly invite mechanics, just send a web link to friends and they can get access to the channel without going through a length sign up process
What we dislike:
Susceptible to people harassing each other, server raids and chat bombarding
Not well-managed Discord has become an attractive platform for trolling other groups
Features
Live text, voice, and video chat
Server tools
Create or join servers
Community management
Private and public messaging
Push notifications
Cross-platform (PC and mobile)
Available for both Android and iOS
#15. Skype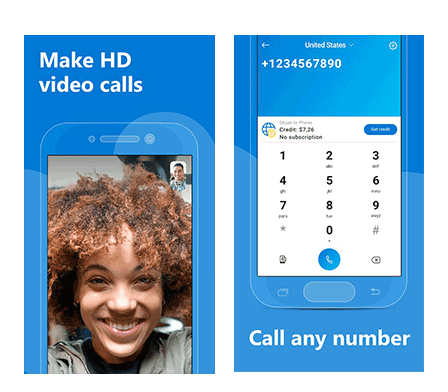 Skype is one of the original gangsters of messaging apps that allows you to send short video messages, call international landlines and mobile numbers using Skype credits, chat messages, send media files and video chat. It's cross-platform so you can continue your conversations on Mac, Windows, Android, iOS etc.
What we like:
Cross-platform (iOS, Android, PC, Linux and Mac)
Screen sharing
Massive user base so friends likely have it installed
Cheap overseas calls
What we dislike:
Lots of dropped calls. Needs a strong internet connection otherwise, the video will freeze audio will lag and calls will drop
Not that great for teams
Features
Cheap calls to international landlines and mobile phones
Cross-platform
File sharing
Video messages
Free app to app voice and video calls
Available for both Android and iOS
#16. Textra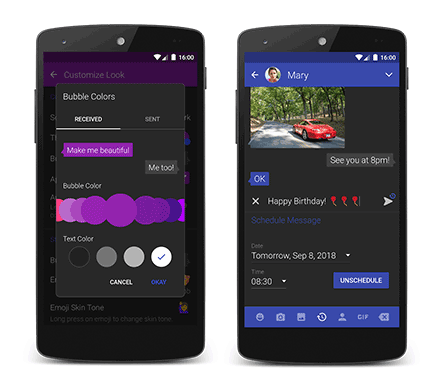 Textra takes your stock standard SMS messaging app and replaces it with a juiced up version including features like customizable interface, themes, message scheduling, 2,000 emojis, quick replies, floating lollipop style notifications and more.
What we like:
Nice sleek and minimal design
Highly customizable user-interface
Reply to SMS messages without having to open the app
Does texting well
What we dislike:
Features
Customizable interface and themes
Message scheduling
2,000 emojis
MMS
Quick snap camera
Multi-select picture
Available for Android
#17. Silence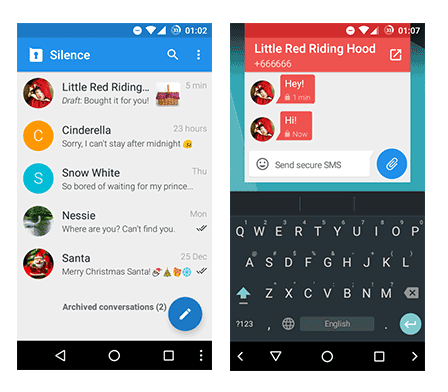 For the more security conscious person who is looking to keep their communications private Silence is definitely worth a look. Silence upgrades your stand SMS/MMS on your phone so that you can now send encrypted messages even if your phone is lost or stolen everything is still protected.
What we like:
Industry leading encryption
Minimal…everything. Not much of an interface (we don't mind this, however)
Encrypted group chats, file sharing and app to app messaging
What we dislike:
Standard text messages are not encrypted
Features
Encrypted SMS and MMS texting
End-to-end encryption using the Axolotl encryption protocol
Available for Android
#18. WhatsApp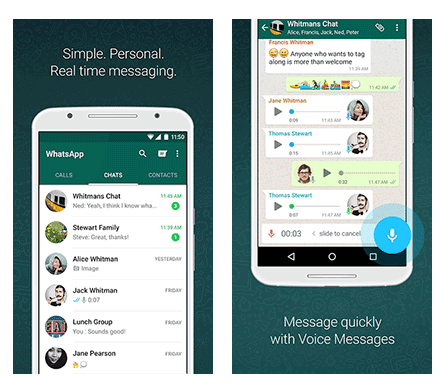 I was reluctant to include WhatsApp on my list due to the fact that they have been sharing data about their customers with parent company Facebook since 2016 which at the time users could actually opt-out from sharing some of this data but now WhatsApp has refreshed their privacy policy that states how they will be sharing their customer's data with Facebook but this time they have removed the ability for users to opt-out for those who do not wish to have their personal information shared with Facebook are no longer able to use WhatsApp.
What we like:
Ease of use
Large user base so friends are likely to have this app installed
Group feature is good and you can give admin rights to selected members
Voice calling is clear
What we dislike:
Future Security concerns: Mark Zuckerberg wants to make it possible for Facebook Messenger, WhatsApp and Instagram to send messages to each other which raises potential security concerns for those users of these apps
Need fairly strong internet speeds to get a good clear video call
It does require a phone number to work. While we don't have a problem with this, some users do so we've included it.
Can't hide online status so when you're online everyone knows
Features
Free video and voice calls
Free messaging
Location sharing
Share photos and documents
End-to-end encryption
Editing and GIFs
Available for both Android and iOS