If you have a smartphone, chances are you're pretty big on texting. In this day and age, it's more common for smart phone users to communicate by Instant Messaging apps such as Viber, Whatsapp and Yabb Messenger than SMS. The prevalence of text conversation via these messaging apps in today's digital world tends to indicate that these apps are offering users a better experience than SMS messaging.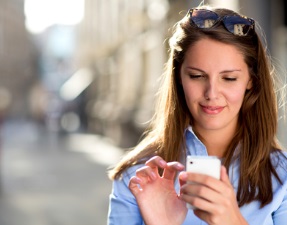 Back in 2013, telecommunications companies realized that their SMS revenues were slowly dropping, even as the percentage of smartphone users who preferred text over talk continued to rise. This was largely a result of chatting and instant messaging apps such as Yabb Messenger. Even Facebook's chat app has been getting more popular than a phone's stock SMS app in recent years. Experts predict that messages sent by messaging apps will outnumber traditional SMS messages within the next two years, with 50 billion messages to be sent by messaging app and 20 billion sent by SMS.
These trends have only continued as time has gone on, leading to one major question: what is it about these apps that is taking away from stock SMS services? Apart from the simple fact that messages sent from messaging apps are totally free, messaging apps have also been winning because of usability and aesthetic reasons.
Many messaging apps allow users to customize visual schemes, including unique wall papers for each person that you are chatting to and the color of the app itself. For those that are worried about privacy, chatting apps such as Yabb Messenger have a feature called "whisper mode". In whisper mode messages permanently disappear on both phones after the recipient sees the message. Many apps also allow you to customize alert tones and other features that are often locked down in the manufacturer's stock app.
Another reason why these messaging apps are gaining ground over SMS is due to its versatility, both in format and media type. While a traditional SMS can work with text and you can send photos with MMS, the experience sending photos and text with messaging apps is no comparison. For example you can easily touch up your photos or add captions to your photos before sending the photo with a messaging app. Your text messages can include emoticons and stickers so that there is no misunderstanding of how you feel when you send a text message. These apps also allow you to send text, video, contact cards and even a map of where you are or where you want to go. When sending photos it also possible for you to send multiple photos at once, and you can combine them into a "slideshow,".
Yet another place that messaging apps outshine traditional SMS is transmission speed. While SMS messages can take minutes or even hours to appear, most messaging apps are considered "instant" in that their messages are transferred almost immediately.
Conversations are just better with messaging apps. Communication is faster, the interface is more attractive and the features are more versatile than any SMS service on the planet. Why would you stick with the basics when there's so much more out there from which to choose?