Yabb Messenger offers tons of options for users to chat with each other. Talk on the phone, send free text messages to all of your contacts, start up a group message to chat with friends, or even meet new people near you. The options for talking in Yabb are just about endless.
But when you have so many conversations and so many different friends, how do you keep track of the conversation? Luckily, we thought ahead, and built in the perfect way to catch friends up on your conversation. Yeah, Yabb's got your back like that.
Quote friends in any conversation, and you'll immediately catch them up on all of the action and provide context for your next text.
Quoting friends during a conversation is fast and easy. Go ahead and pop into one of your Yabb Messenger chats – it's cool, we can wait. Now look up at the second to last message that your friend sent to you. See the little quotation marks beneath the message? That's your indicator that the message can be quoted, and sent back to your friends in the group chat.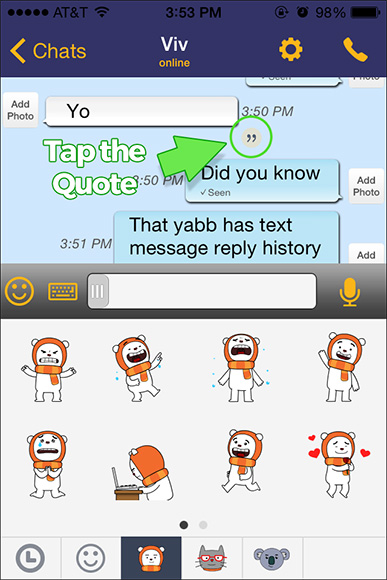 When you quote someone, their message will appear atop yours, showing exactly what they said and providing context for what you write next.
Quoting is perfect for just about any situation. Have a big conversation going with a bunch of friends? Make sure nobody gets drowned out of the chat by quoting. Someone promised to pay your back for drinks and dinner last night? Give them a not-so-subtle reminder that they might just be picking up the tab next time.
Any text message above the last message can be quoted. That means you can go back to any point in your conversation, and quote anyone from any time. Go back, laugh and reminisce about the start of a new friendship or relationship, or just relive all of those lovely memories you've built with your group over the months and years. There are all sorts of applications for quoting!
You can also go back and edit the quotes that you send in your messages. Backspace and edit old quotes to create funny messages, or play quoting games with your friends as you pass edited quotes back and forth. It's just one more way that we let you personalize the way you Yabb with your friends, family and contacts.
And hey, fun fact: In case you were wondering, Yabb Messenger is in fact the only social chatting app that lets you go back to the start of your conversation and quote any message your friends have sent!
Text and group chat with amazing freedom in Yabb. Quoting is the best way to keep up to date, bring new people into group conversations, and keep your friends involved in the chat. It's just another way that Yabb offers the most flexible, fun chatting experience, straight from your phone. And at the risk of sounding like a broken record, it, like the rest of Yabb's features, is totally free.
With Yabb's Quoting feature, you're free to yabb as long and with as many people as you want!